Global Talent Visa
The Global Talent Visa-Independent Program (GTI) is designed to provide a streamlined and priority visa pathway for highly skilled and talented individuals to migrate to Australia permanently. The government aims to attract talented individuals from across the world who are the top of their field of industries in so-called "target sectors".Global Talent Independent program
Places in the GTI program will be tripled to 15,000.Global Business and Talent Attraction Taskforce
A new whole-of-government Global Business and Talent Attraction Taskforce will be established to attract international businesses and exceptional talent to Australia, to support the post- COVID recovery and boost local jobs.This initiative builds on the existing Global Talent Initiative and Business Innovation and Investment Program and the new initiative announced by the Prime Minister on 9 July 2020 to attract export-orientated Hong Kong-based businesses to Australia.
What is the GTI (Global Talent visa) program?
The Department works with Australian universities, industry bodies, state, and territory government to attract highly skilled and talented individuals. There are Global Talent Officers in major cities such as London, Shanghai, Singapore, Berlin and Washington DC. These officers work with key industries to invite individuals to apply for the GTI program.The Department is looking for individuals who are skilled in one of the seven target sectors and are able to earn a salary that meets the fair work high-income threshold or be a high a performing recent PhD, Masters or Honours graduate.Access to the program is via referral from either the Global Talent Officers or by a nominator.
Target sectors
Resources
Agri-food and AgTech
Energy
Health Industries
Defence, Advanced Manufacturing and Space
Circular Economy
DigiTech
Infrastructure and Tourism
Financial Services and FinTech
Education
Read more about the target sectors and in detail at the end of this page.
Expected salary threshold
The high-income threshold is adjusted every financial year, and it is the amount set by Fair Work Australia. This year, the threshold is at $158,500.The Department will assess the applicant's ability to earn the threshold through:The applicant's current salary
Job offer outlining the salary
Recent PhD or Masters graduates in the target sectors.
For more information see Fair Work High Income Threshold
Benefits of the GTI Program
The benefits of the GTI Program include:Priority processing
No age limit to apply

How to apply?
To apply you must:Apply to receive a unique identifier issued by the Global Talent Officers; and
Secure a nominator; and
If successful with these two steps, apply for the visa.
Highly skilled professionals referred to the Department may be invited to apply for a Distinguished Talent visa (subclass 124 or subclass 858).Use our Global Talent assessment form:to refer a highly skilled individual at the top of their field to the Global Talent Independent program (to receive a global talent unique identifier), or
to lodge a Distinguished Talent visa application through the Global Talent Independent program (you will need a global talent unique identifier)

Unique identifier
A unique identifier will be provided to individuals who meet the program requirements. You will have to submit an expression of interest (EOI) on the Global Talent Contact form. Once submitted, you will receive an acknowledgment that your EOI has been submitted. There is no standard processing time for the EOI. However, it is understood that due to COVID-19, these are currently taking longer than usual.Nominator
The applicant will need to have a nominator to nominate them for the program. The nominator must have a national reputation in the same field as the applicant and is either:an eligible Australian citizen or permanent resident
eligible New Zealand citizen
an Australian organisation.
Depending on the industry you are in, your nominator could be your university, your employer, your industry body, or your industry peers.A number of factors may be assessed to determine the nominator's national reputation. For example, the Department may look at the nominator's:record of achievements
leadership in the industry
professional associations with leading organisations and industry bodies
employment history
contribution to international journals
participation in local and international conferences

Visa application
Once you have received the unique identifier, you will be able to lodge your application under the Distinguished Talent Visa (outside Australia). If you are in or out of Australia, it will be an subclass 858 Distinguished Talent Visa. Previously if you were outside Australia or holding an inappropriate visa, you had to lodge a subclass 124 Distinguished Talent Visa.Global Talent Independent changes – Masters and Honours students
Global Talent Independent program now prevent Masters and Honours students from receiving an invitation, based solely on their academic qualifications.This policy change affects all future EOI assessments, and applies to EOI submissions made by candidates who have not yet received an invitation to the Global Talent program by 20 January 2021.EOI candidates who submitted an EOI prior to the policy changes and have not been invited are encouraged to review their eligibility and to consider applying again when they meet the new requirements.New eligibility requirements:
Applicants must demonstrate that they are highly skilled in one of the target sectors and:prove they are internationally recognised with evidence of outstanding and exceptional achievements
still be prominent in their field of expertise
provide evidence that they would be an asset to Australia, in their field of expertise
have no difficulty obtaining employment in Australia or becoming established in their field
have a recognised organisation or individual in Australia endorse them as global talent, in the same field as the applicant.
Candidates must meet a high standard and show an exceptional track record of professional achievement. This may include:senior roles
patents
professional awards
international publications
memberships.
Applicants should have the ability to attract a salary at or above the Fair Work high income threshold.In assessing the applicant the Department considers:current salary shown through payslips or a contract, or
future job offers outlining remuneration, or
recent PhD graduates and certain PhD students with relevant qualifications in the target sectors.

What is the Distinguished Talent Visa?
The Distinguished Talent Visa is for individuals who are globally recognised for their exceptional achievement in a profession, sport, arts or academia and research. It is a visa that will allow you and your family to live in Australia permanently.When applying for the visa, the Department will consider:Your contribution – it must be of benefit to the Australian community, the Australian economy, the social, cultural standing of Australia or raise Australia's standing in academia, the arts or sport.
You must be internationally recognised, and you must be prominent in your field for the past two years.
You must able be able to show that you can find work in your area of expertise in Australia.
You must have a nominator. The nominator must have a national reputation in the same field as you.
How much does it cost?
Main applicant – $4,110Dependent (under 18 years old) – $1,030Dependent (over 18 years old) – $2,0552020/21 Financial year
15000 spots have been allocated for the 2020/21 financial year which is 3 times more than the previous financial year.Breakdown of grants for GTI visa in 7 target sectors. Statistics from the 2019-2020 Migration program Department of Home Affairs. The breakdown of grants per targeted sector were as follows:Quantum Information, Advanced Digital, Data Science and ICT (28%)
MedTech (26%)
Energy and Mining Technology (20%)
AgTech (9%)
Space and Advanced Manufacturing (8%)
FinTech (6%)
Cybersecurity (3%)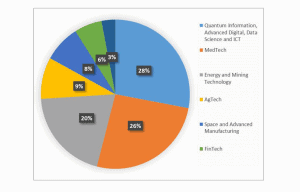 On 27 February 2021, the Distinguished Talent (subclass 858) visa was renamed to the Global Talent (subclass 858) visa.From this date, a Distinguished Talent (subclass 124) or Global Talent (subclass 858) visa can be granted to eligible applicants who are in or outside Australia., This is provided they are not in immigration clearance when the decision is made.There are two pathways in the Global Talent (subclass 858) visa:Global Talent Visa pathway
Distinguished Talent pathway
For the Global Talent Visa pathway, potential candidates who have relevant skills and experience in a priority sector should refer to the Global Talent visa webpage for information about applying. Eligible candidates will be invited to apply for a Global Talent (subclass 858) visa, and are strongly encouraged to lodge the visa application at their earliest opportunity. Applicants must give their invitation details when they apply for priority processing through the Global Talent pathway.Applicants ineligible for a Global Talent visa invitation are recommended to consider other visa options.The Distinguished Talent pathway is subject to overwhelming demand and is only for the most exceptional and outstanding individuals. The average processing time for the Distinguished Talent program is 18-20 months.The Global Business and Talent Attraction Taskforce
Last year, amid the global uncertainty fuelled by COVID-19, the Government launched a powerful blueprint for economic growth, with the JobMaker Plan a key tool to help turbocharge the Australian economy. As part of this effort to generate thousands of quality jobs for Australians, the Prime Minister set up the Global Business and Talent Attraction Taskforce. He has described their mission as "Australia's brain gain".The Taskforce is a government initiative to bring the best and brightest businesses and talent to Australia. It targets high yield companies that can bring new technologies, cutting edge research and development, and IP and capital to our shores.The Taskforce is targeting exceptionally talented individuals and experts at the top of their field who can drive innovation. It is engaging the most successful companies with high growth potential and highly skilled professionals in future-focused industries to come to Australia and develop their ideas here.The Taskforce is facilitating the relocation of senior executives, company staff and their families with flexible visa arrangements to fast track their transition into Australia. It will connect them with industry and supportive business ecosystems to help them hit the ground running.As of 27 February 2021, changes were made to improve Australia's competitiveness as a relocation destination and make it easier and faster for exceptional talent and high value businesses to relocate and contribute to Australia's post-COVID economic recovery.The changes relating to the Global Talent visa (formerly known as the Distinguished Talent visa) include: an ability for the Taskforce to directly nominate suitable exceptionally talented candidates who will make a significant contribution to the Australian economy.Additional changes introduced include a temporary work visa option to facilitate the rapid temporary deployment (up to 18 months) of critically skilled staff to Australia to establish a 'beach-head' for their business relocation. This visa option will be available through the Temporary Activity visa (subclass 408), Australian Government Endorsed Events stream, and Post COVID-19 Economic Recovery event. Up to ten visas will be available to the relocating business under this stream.